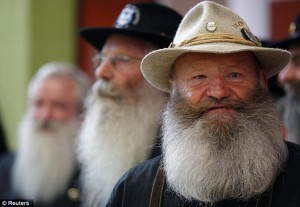 En kvinna kom ut från sitt hus och såg tre äldre män med långa vita skägg sitta på framsidan i hennes trädgård. Hon kände inte igen dem.
Hon sa: "Jag tror inte att jag känner er, men ni måste vara hungriga. Kom med in så får ni något att äta."
"Är mannen i huset hemma?", frågade männen.
"Nej", svarade kvinnan. "Han är ute just nu."
"Då kan vi inte komma in", svarade männen.
På kvällen när kvinnans man kom hem, berättade hon vad som hade hänt.
"Gå ut och berätta att jag är hemma nu. Bjud in dem!" Kvinnan gick ut och bjöd in männen. "Vi går inte in i huset tillsammans", svararde de.
"Varför är det så?" undrade kvinnan. En av de äldre männen förklarade: "Hans namn är Rikedom", sa han och pekade på en av sina vänner. "Han är Framgång, och jag är Kärlek. Sedan la han till: "Gå nu in och diskutera med din man vem av oss du vill ha i ditt hem.
Kvinnan gick tillbaka in i huset och berättade för sin man. Hennes man blev överlycklig. "Så bra!", sa han. "Låt oss bjuda in Rikedom. Låt honom komma in och fylla vårt hem med Rikedom.
Hans fru höll inte med. "Varför tar vi inte och bjuder in Framgång istället?"
Deras svärdotter hade lyssnat men gav sig nu in i diskussionen. "Skulle det inte vara bättre att bjuda in Kärlek?" Tänk att få vårt hem fyllt av kärlek!!
"Låt oss följa vår svärdotters råd," sa mannen till sin fru. "Gå ut och bjud in Kärlek att bli vår gäst."
Kvinnan gick ut och frågade de tre gamla männen: "Vem av er är Kärlek? Kom in och var gäst hos oss."  Kärlek reste sig upp och började gå mot huset. Därefter reste sig även de två andra männen och följde efter.  Förvånad frågade kvinnan Rikedom och Framgång "Jag bjöd bara in Kärlek, varför kommer ni med?"
De gamla männen svarade tillsammans "Om du hade bjudit in Rikedom eller Framgång så hade de två andra av oss stannat utanför, men eftersom du bjöd in Kärlek, så var han än går, så följer vi med honom. Där Kärlek finns, finns också Rikedom och Framgång!"
**************************************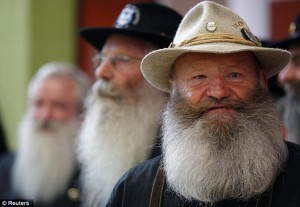 A woman came out of her house and saw 3 old men with long white beards sitting in her front yard. She did not recognize them.
She said, "I don't think I know you, but you must be hungry. Please come in and have something to eat."
"Is the man of the house home?", they asked.
"No", she said. "He's out."
"Then we cannot come in", they replied. In the evening when her husband came home, she told him what had happened.
"Go tell them I am home and invite them in!" The woman went out and invited the men in. "We do not go into a House together," they replied.
"Why is that?" she wanted to know. One of the old men explained: "His name is Wealth," he said pointing to one of his friends, and said pointing to another one, "He is Success, and I am Love." Then he added, "Now go in and discuss with your husband which one of us you want in your home."
The woman went in and told her husband what was said. Her husband was overjoyed. "How nice!!", he said. "Since that is the case, let us invite Wealth. Let him come and fill our home with wealth!"
His wife disagreed. "My dear, why don't we invite Success?"
Their daughter-in-law was listening from the other corner of the house. She jumped in with her own suggestion: "Would it not be better to invite Love? Our home will then be filled with love!"
"Let us heed our daughter-in-law's advice," said the husband to his wife. "Go out and invite Love to be our guest."
The woman went out and asked the 3 old men, "Which one of you is Love? Please come in and be our guest." Love got up and started walking toward the house. The other 2 also got up and followed him. Surprised, the lady asked Wealth and Success: "I only invited Love, Why are you coming in?"
The old men replied together: "If you had invited Wealth or Success, the other two of us would've stayed out, but since you invited Love, wherever He goes, we go with him. Wherever there is Love, there is also Wealth and Success!"