En tänkvärd historia: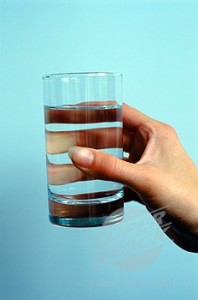 "En psykolog vandrade runt i rummet medan hon talade om att hantera stress inför publiken. När hon lyfte ett glas med vatten så förväntade sig alla att hon skulle fråga om glaset var "halvtomt eller halvfullt". Istället frågade hon med ett leende "Hur tungt är detta glaset med vatten?"
Det kom en del svar och gissningarna varierade mellan 100 och 500 gram.
Hon svarade, "Den absoluta vikten har egentligen ingen betydelse. Det beror helt enkelt på hur länge jag håller glaset. Om jag håller det i en minut så är det inget problem. Om jag håller det i en timme kommer jag att ha lite ont i armen. Om jag håller det i en dag, så kommer min arm att kännas domnad och förlamad. I varje enskilt fall kommer glaset att ha oförändrad vikt, men ju längre vi håller det desto tyngre blir det. Hon fortsatte:  Stress och oro är som det där vattenglaset. Om vi tänker på dessa ett tag så händer ingenting. Om vi tänker på dem lite längre så kommer det att börja göra ont. Om vi tänker på dem hela dagarna så kommer vi att känna oss förlamade – oförmögna att göra någonting.
Det är viktigt att komma ihåg att släppa det som stressar dig. Så… så tidigt på kvällen som du kan, lägg av allt det du bär på. Fortsätt inte att bära på saker under kvällen och inpå natten. Kom ihåg att sätta ner vattenglaset!!"
English:
"A psychologist walked around a room while teaching stress management to an audience. As she raised a glass of water, everyone expected they'd be asked the "half empty or half full" question. Instead, with a smile on her face, she inquired: "How heavy is this glass of water?"
Answers called out ranged from 8 oz. to 20 oz.
She replied, "The absolute weight doesn't matter. It depends on how long I hold it. If I hold it for a minute, it's not a problem. If I hold it for an hour, I'll have an ache in my arm. If I hold it for a day, my arm will feel numb and paralyzed. In each case, the weight of the glass doesn't change, but the longer I hold it, the heavier it becomes." She continued, "The stresses and worries in life are like that glass of water. Think about them for a while and nothing happens. Think about them a bit longer and they begin to hurt. And if you think about them all day long, you will feel paralyzed – incapable of doing anything."
It's important to remember to let go of your stresses. As early in the evening as you can, put all your burdens down. Don't carry them through the evening and into the night. Remember to put the glass down!"